Home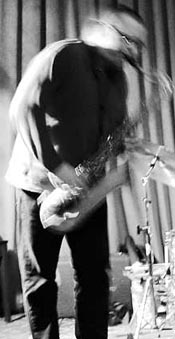 Phillip Greenlief

A message from Phillip Greenlief.

Saxophonist/Composer Phillip Greenlief is the founder of Evander Music; an independent record label that presents original composition, improvised music and new jazz. Since 1996, Greenlief

'

s recordings and performances have received critical acclaim in many national jazz publications (Down Beat, Jazz Times, 5/4, Cadence, Modern Saxophone, All About Jazz, The Los Angeles Times, etc.). His duo recordings with bassist Trevor Dunn and drummer Scott Amendola received the highest ratings in the 1999 Music Hound Jazz Essential Album Guide. His recordings with the Lost Trio and Phillip Greenlief & Covered Pages were listed on the Critics' Top 10 Recording List of 2000 & 2001 in several publications (Jazziz, San Francisco Chronicle, San Jose Mercury News, East Bay Express, Downtown Music Guide - NYC).

Greenlief is a recipient of the San Francisco Bay Guardian Goldie 2000 Local Talent Discovery Award in music. Since 1982, Greenlief has performed internationally as a sideman and as a leader in a variety of settings. In addition to club dates and tours across North America and Europe, he has performed at the 1st Annual John Coltrane Festival in Los Angeles, North Sea Jazz Festival in Den Hague; the Freiburg Zelt Muzik Festival in Germany; the Du Maurier Jazz Festival in Vancouver, B.C.; the Werkstatt fur Improvisierte Musik in Zurich; the Ulrichsburg Festival and the Konfrontation Festival in Nickelsdorf, Austria; the Isole Che Parlano Festival in Sardinia; the 2003 Biennale Festival in Venice; and the International Festival of Scenic Arts in Sao Paulo, Brazil. In 1998 he lived in Saint Petersburg, Russia, where he performed solo saxophone concerts in addition to performing and recording with several jazz groups and the Russian folk ensemble, Dubinushka.

"Phillip Greenlief is a reedman versatile enough to achieve anything except peace in Palestine" - Greg Burk, LA WEEKLY

After completing studies in music and literature at the University of Southern California in 1988, Greenlief composed "Love Songs to the Episodes of James Joyce's Ulysses". Other compositions include commissions from Rough and Tumble for their productions of Eugene Ionesco's Macbett, and their adaptation of The Trial, by Franz Kafka; music for the Sony Pictures Classics release, Dream with the Fishes, (starring David Arquette); and a collaboration with George Coates' Theater Works, performing in the world premiere of 20/20 Blake (based on the life/works of William Blake) in Sao Paulo, Brazil, where the production was featured on MTV.

"The outstanding saxophonist...." - Andrew Gilbert, San Jose Mercury News

Greenlief's recent projects include Music for Rilke's Duino Elegies, (commissioned by Western Oregon University) set for wind trio; and, for the Kaleidoscopic Sextet, Beauty is a Rare Ticket That Exploded, a unique approach to the music of Ornette Coleman, where the composer utilizes the 'cut up' literary techniques of William S. Burroughs. These works received 2001 premieres in Berlin, Zurich, Portland, and Melbourne, Australia. 2002 composition output included works for the Wind Trio of Alphaville, and an Oakland City Artist Grant for Portraits of Extraordinary Children, a series of musical portraits for trio based on conversations and interviews with at-risk students in West Oakland. His solo saxophone deconstruction of the Ingmar Bergman classic, Cries and Whispers was conceived and recorded as Cries and Whispers for Harriet Anderson for the Artship Recordings label and was later expanded in collaboration with dancer Katie Faulkner.

"...the under-rated West Coast Saxophonist" - Art Lange, Epulse! Magazine

In addition to solo performances, Greenlief is an active member of: PG/Joelle Leandre duo, The Lost Trio, The Wind Trio of Alphaville (w/Jon Raskin & Philip Gelb), PG & Covered Pages, Faulkner - Greenlief Project, PG/Garth Powell duo, bush assassin, Three Wheeler (with Shoko Hikage & Dana Reason), and the Kaleidoscopic Sextet. "A prolific local treasure..." - Aquarius Music SF

Greenlief has performed or recorded with Bruce Ackley, Steve Adams, PG/Scott Amendola duo, Paolo Angeli, Ashley Adams Trio, Bonnie Barnett Group, Hermann Buhler, Eugene Chadbourne, Nels Cline Trio, Clubfoot Orchestra, Crushing Spiral Ensemble, Beth Custer, Robert Dick, PG/Trevor Dunn duo, Dominic DuVal, Lisle Ellis Group, Marco Eneidi's American Jungle Orchestra, Fred Frith, Wolfgang Fuchs, Ben Goldberg, Vinny Golia, Frank Gratkowski, Tootie Heath, Matt Ingalls, Carla Kihlstedt, Steve Kirk Pop, Andrea Martignoni, Miya Masaoka, David Michalak's Reel Change, Roberto Miranda, Orchestra Nostalgico, William Parker, Gino Robair, Waddada Leo Smith, Pauline Oliveros' Sounding the Margins Orchestra, Glenn Spearman, squiggle (w/Tim Perkis & Tom Djll), Jimmy Smith, Moe! Staiano, Natsuki Tamura, Tango #9, They Might Be Giants, Tri-Axium West Orchestra (performing the music of Anthony Braxton), Trio Putanesca, Bertram Turetsky, and "Senator" Eugene Wright.